Welcome
Welcome to our wedding website!
Thank you for visiting. You should be able to find all relevant information for wedding events through this site. We are thrilled to share this exciting time with our beloved family and friends. We hope you enjoy getting to know more about us and our big day!
Our Story
How We Met
Devin and I met in 2009 while he was finishing his senior year at LSU. We were neighbors at The Gates at Brightside. The first time I saw Devin he was sitting on his patio in a folding chair with his feet propped up on an old BBQ pit. He was reading an LSAT prep book and smoking a cigar. I asked him, "What's the LSAT?" Devin was not impressed.
Time passed and a friendship formed. We played around with the idea of dating and made it official on August 15, 2010. The rest is history! In our 6 years together, we have hit many milestones at each other's side and grown into adulthood standing next to one another. Devin asked me to marry him on Christmas Day of 2015. We look forward to celebrating this exciting time with our family and friends.
Engagement Story
Our Engagement Story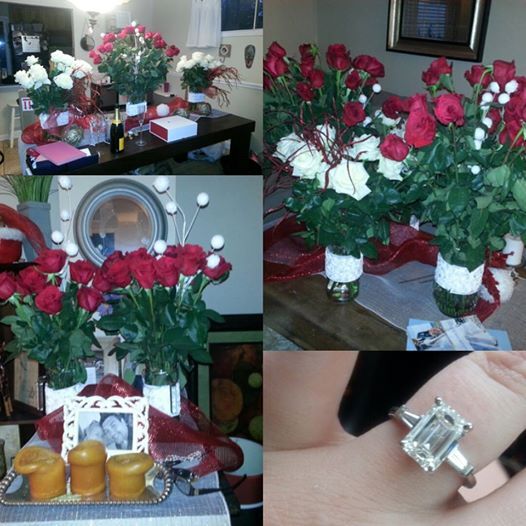 Devin asked me to marry him on December 25, 2015. We usually spend Christmas at our respective family homes in Prairieville and Metairie and meet up on Christmas morning. Devin recruited the help of my grandparents and mother to set up our home while he drove in from Metairie that morning. While I slept, my family drove to our home and filled it with the 200 long stem red roses Devin had ordered for the occasion.
I had no idea what I was in for when I walked inside that day. Devin was on his knee holding a ring box with the prettiest engagement ring I'd ever seen. His allergies were kind enough to let him get through the proposal. I was not. I said yes before he could finish asking me!
Devin was clever enough to record his proposal so we could have the opportunity to share it with you. https://youtu.be/vp0qVbwjsIs
Wedding Party
Brittany Babineaux - Honorary Maid of Honor
Brittany and I met in the 90s. She is my first cousin and the closest thing I'll ever have to a little sister. Though she is younger than me, she is profoundly more mature and levelheaded. She is the most selfless person I have ever had the pleasure of knowing. Brittany is truly beautiful on the inside and out. She has been my babysitter, my sister and my partner in crime since she was born. From letting me jump on her bed when I got off of bartending shifts at 3 am to letting me steal her toys, attention and camera time as a kid - she is amazing and I love her more than words can express.
I love you, Britt! I'll take the initiative and fill all of our guests in on your relevant information:
Marital Status: Single
Shannon Kelly - Bridesmaid
Site visitors, meet 1/3 of Dick's Devils. This foxy lady and I met in 2010. She was in the early stages of dating Devin's friend and groomsman, Mark Deethardt. Through the years and despite my disdain for female bonding activities, Shannon and I have become great friends. Shannon never ceases to surprise people with her sincere generosity and considerate nature. She is our consummate planner, a lover of all things Mark related and our little bunny rabbit.
We have enjoyed countless vacations, staycations, tailgates and sloppy nights together. I look forward to making more memories with this lovely lady. Love you, Shannon.
Kelly Englert - Bridesmaid
Site visitors, meet another 1/3 of Dick's Devils. Kelly went to law school with Devin. I first met her at a law school tailgate. She was the life of the party. She laughed too loud, drank too much and relentlessly made fun of anyone who wasn't doing the same. We got along right away. Kelly is not only stunning, she's smart, incredibly funny and crazy as hell. Nights are never dull when Kelly is around and she is the cause of more stories than I care to remember or share in this bio (We'll save those for the speeches).
Thank you for being unapologetically you, Kelly. You are one of my favorite people. Never change and thank you for being my friend. I thoroughly look forward to whatever you say into a microphone at our rehearsal dinner.
Nicole Salbador - Bridesmaid
I have known Nicole and called her my friend for over 15 years. We met as children where we played on the same soccer team growing up, The Aliens. Our jerseys were lime green to match the UFO theme that melded perfectly with the relentless Louisiana sun (we looked like traffic cones on the field). We used to use hair spray paint to make my family dachshund, Sid, green for games.I have had the pleasure of watching Nicole grow into a beautiful woman, wife and mother. She honored me by letting me stand beside her on her beautiful wedding day and I am grateful to return the favor. In addition to loving Nicole, I love her mamma and daddy. The whole Salbador/Anderson clan has a special place in my heart. Thank you for being there for me over all these years, Coleigh.
Monique Ricci - Bridesmaid
Monique is going to be my beautiful sister-in-law. The first time I met Monique was over family dinner at Brenda's house. She said, "This one talks." I liked her immediately. Monique is an amazing mother, wife, artist and all around likable lady. I am honored to have Monique there to support me on my big day and look forward to asking her for advice in many milestones yes to come. FYI: As this is a family affair, Monique, her husband Michael and their daughter Rosalie will all be members of our wedding party. I can't wait for the pictures!!
Michael Ricci - Best Man
If you don't know that Michael is Devin's brother and the shared last name didn't give it away, you probably shouldn't be invited to the wedding. You will likely be too dumb to find the reception anyway. What can be said of the guy that helped guide Devin though all stages of life. If you don't like anything about Devin's personality or sense of humor, ... blame Adam Sandler and then Michael for introducing Devin to Adam Sandler. Michael has always been there for Devin and will be there front and center at the wedding. Fun fact: Michael told Devin that he was the worst best man ever at his own wedding. Here's to hoping that Michael shows how it should have been done.
Stuart Schneider - Groomsman
Stuart is one of Devin's oldest and most loyal friends and the closest thing Devin has to a brother from another mother and father (caveat: there is a brother from another mother). They have known each other since they were 9, both getting yelled at by the late Brother Gregory. Stu has been there for just about every major milestone in Devin's life and hopefully will be there for all the rest.
Mark Deethardt - Groomsman
Mark made Devin co-best man in his wedding. Devin didn't reciprocate. That should tell Mark something. Fun fact: Mark likes Vin Diesel so much that he has a triple x tattoo on his wrist. He loves showing it to people and talking about Fast and the Furiest. Just ask him for a ride in his Honda. One of their best past times is wrecking the neighborhood. Mark wrote a lot of garbage about perceived loyalty in his wedding profile on Devin. Devin was utterly confused as he would sell Mark out in a heart beat. In all seriousness, Mark is one of Devin's favorite people, but the above is all true.
Frank Larson - Groomsman
A lot of attention has been given to the simplicity of Frank's previous entry. While he does suck (but much less than in years past), he is anything but simple. Frank is one of the most complex onions you may ever meet, and I highly recommend anyone get to know him at the wedding. Peel away the right layer of this onion and you might find one of the best friends around. Peel the wrong, however, and we are back to suck-town.
Jacob Gower - Groomsman
Where does one start on explaining this somehow lovable man child? Don't let his small stature fool you, he is an adult. Also, don't let his demeanor fool you, I swear he is an adult. Jacob may be one of the smartest people to grace this earth with his presence. This is the only time I will ever put that in writing. He is also really funny particularly when no one else is around. I kid a lot with Jacob, mostly because I am lazy and it is so easy, but I honestly owe a lot to him in my life. From traveling abroad to pushing me to actually care about law school, he's been a great friend and I couldn't imagine getting married without him by my side.
Brett Bourgeois - Groomsman
In some ways, Brett is responsible for introducing Jessie and Devin. Many of you have heard the story that Devin and Jessie were neighbors. But what you may not know is that they were only neighbors for a short time. Devin and Brett stayed at Brett's then girlfriend, now wife's's condo next door to Jessie for a few weeks until their lease started at, of all places, Jessica's Landing (and land she did). Devin and Brett lived together throughout undergrad, getting into more trouble than can or should be recounted. Although the bitch mistress of law school separated them for years, it is like no time has passed every time they get together.
Jake Rousell - Usher
Devin met Jake in law school. If you're picking up on a theme here, it is because mostly everyone we know and love practices law. If you're looking for the most chill guy in the room to grab a beer with, look no further. Jake is the MOST laid-back person we know. If you think he's sleeping at the wedding, he's not. Devin and Jake man our annual tailgate spot. Jake loves to laugh, eat and drink. Jake is dependable and always has a smile on his face.
Mike DeBarros - Usher
Mike is one of Devin's favorite colleagues. They both started at Devin's firm (no free advertising here #FKM) at the same time. Fun fact: When they first started, partners would send out e-mails for people to jump on projects. Devin used to volunteer only to find out that this deBarros guy had already signed up, leading Devin to always question who is that douche. Well, the douche turned out to be Mike, who Devin grew to really like. Mike is also a husband and father of three beautiful children including Jayceman.
Niko Imbraguglio - Ursher
Niko and Devin met in law school. They had many things in common, namely a very dry sense of humor and a laid back attitude. In addition to being intelligent, funny and socially well-rounded (tough to find in law school), Niko is also an ordained minister more sinister. If the Catholic church sees us as unfit, we have a back-up plan.